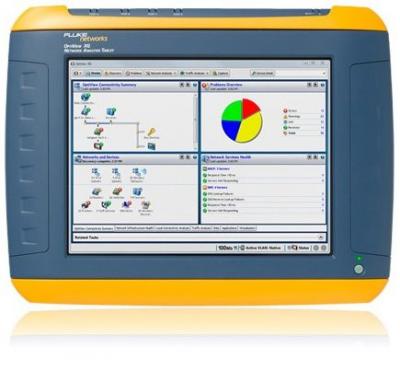 OptiView® XG Network Analysis Tablet is the first network monitoring tablet which identifies the root cause of any application and either wireless or cable network problem.
It allows the user to save since it has been designed to favor the implementation and troubleshooting of new technologies, including unified communications, virtualization, wireless services and 10 GB Ethernet.
OptiView XG Analysis Tablet combines multiple functions and technologies, from the data access layer to the data center:
Network analysis.
Wireless analysis: 802.11 a/b/g/n/ac WLAN + spectrum analyzer.
Traffic analysis and of packages: 1 Gig – 10 Gig via cable (line maximum speed).
Network performance verification.
End user response time analysis (through TruView v9).
AirMagnet
Survey
LAN 802.11n/a/b/g/ac wireless network design and implementation in order to obtain an optimal performance, security and compliance.
AirMagnet
Spectrum XT
Identify and locate dynamically any RF interference which affects the performance of Wi-Fi networks.
AirMagnet Wi-Fi
Analyzer PRO
Monitor and resolve problems of wireless networks at any time and place.